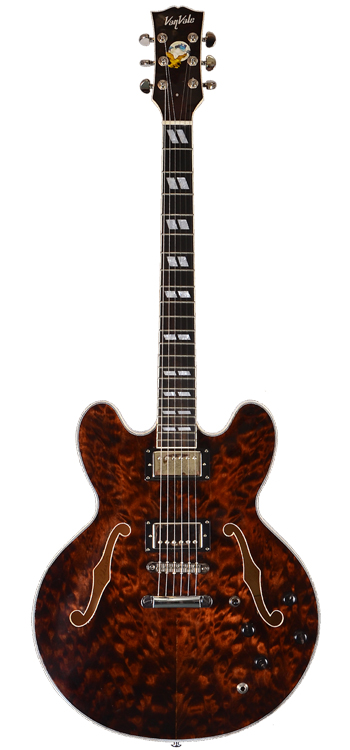 Van Vale Guitars, born to be great! Introducing the Van Vale "Eagle" Guitar.
Gotoh Tuning Machines
Ebony with Mother of Pearl Inlay Fingerboard
Rock Maple Neck and Sides
Aspenwall Hand-Wound Pickups
Quilted Maple Top and Back
Buffalo Horn Volume and Tone Knobs
Suggested Retail Price: $2,495.00
The Van Vale Guitar design concept has been the Designer's Journey of "Striving for Excellence" for decades.
The Van Vale Eagle is a hand-crafted work of art. It was designed and constructed by hand in Topeka, Kansas, U.S.A. by Teddy Van Vale and Master Luthier Joel Edison. Although there may be more than one Van Vale Eagle, each are unique because they are hand-crafted, and not mass produced in a factory overseas.
Now, at this passionate exploding moment of unveiling, we proudly herald to the musical world, the genius presentation of this, fresh into the light of the musical stage, a never before seen innovation, "The Van Vale Eagle Guitar".
A total musical sensation! With it's perfect fine lines of excellent design, ease of touch, perfect tones, sweet to the ear and eyes, we give notice that this beautiful jewel will be available soon.
You will want to embrace it, and make it a permanent part of your musical spirit and world.